Animax India is an English language anime channel aired in India by Japanese TV network Animax. It also airs in other South Asian countries, including Bangladesh, Pakistan, Sri Lanka and Nepal. Animax India started on July 5, 2004 with twelve hours Hindi feed for 7-14 year olds and 15-40 year olds English feed. After June 2006, Animax India changed its target audience to an age group of 15-40 as a young Adult animation channel in India with 24x7 English feed And also it emerged with Animax Southeast Asia with two to four hours separate feed. It currently reaches over 28 million households.
History
Animax India (Separate feed)
Animax India started on July 5, 2004 with twelve hours of Hindi shows for the age group of 7–14 such as Astro Boy (2003), Daigunder and Cyborg 009. It also had a Separate English feed for the age group of 15-40 with shows like Ghost in the Shell: Stand Alone Complex, Hungry Heart: Wild Striker, Get Backers,etc .The programming time blog is like this
Kids Hour  : Weekdays from 3-7 pm, dubbed in Hindi ,for children primary school.
Youth Hour  : Weekdays from 7-9 pm, dubbed in English ,for teenagers and Kinds in Secondary school.
Mega Zone  : Weekdays from 9-11 pm, dubbed in English ,Featuring Blockbuster anime series which appeals to a wide demographic.
Weekend anime : Ensuring the weekends are just as exciting as weekdays , with some of the hottest anime programs , also dubbed in English premiering on weekends.
Animax India (After merged with Animax Southeast Asia)
After emerging with Animax Southeast Asia , Animax transform it self to 24x7 English Language feed with the same shows as Animax Southeast Asia with 2-4 hours separate feed. With shows like Honey and Clover, InuYasha, Fullmetal Alchemist, Ranma 1/2, Rurouni Kenshin, the Dragon Ball series, Cardcaptor Sakura, Tsubasa Chronicle, Vision of Escaflowne, Emma - A Victorian Romance,etc
Programming
Current shows for October 2008
Black Jack coming soon
Kyo Kara Maoh Season 2 - also known as God(?) Save Our King! Season 2 coming soon
La Corda D'Oro
Yakitate!! Japan coming soon
Play Ball Season 1
Absolute Boy (a.k.a. Zettai Shonen)
Captain Tsubasa
Fantastic Children
Ninku
Honey and Clover Season 1
Spooky Kitaro Season 4
Ranma ½
Tsubasa Chronicle Season 2
Kyo Kara Maoh - also known as God(?) Save Our King! Season 1
Slam Dunk
Ōkiku Furikabutte
The Prince of Tennis season 1
xxxholic season 1
Humanoid Monster Bem
YuYu Hakusho
Magical Meow Meow Taruto
Kamichu
The Law of Ueki
Ayakashi
Shonen Onmyoji
Blood +
Initial D Stage 2
Jyu Oh Sei
.hack//Roots
List of Anime broadcast in Hindi Language
This is the List of anime which dub in Hindi language and broadcast on Animax in the time period of 2 years between July 2004 to May 2006.These anime are only for the age group of 7-14.From June 2006 animax changed its target audience to an age group of 15-40 as a young Adult animation channel in India with 24x7 English feed.
Astro Boy (2003)
Daigunder
Cyborg 009
UFO Baby
Baby Ba-Chan (Aishiteruze Baby)
Fancy Lala
Princess Comet
Spirit of Wonder
Princess Sarah
Cyborg Kurochan
Little Women
Monkey Typhoon (Asobotto Senki Goku)
Detective School Q
The Gokusen
Princess Tutu
This list is incomplete,you can donate information
Movies
Blood: The Last Vampire
Final Fantasy VII: Advent Children
Onimusha
Rurouni Kenshin: Seisōhen
Read or Die (OVA)
Escaflowne
Appleseed
Steamboy
Metropolis
Memories
Tokyo Godfathers
Ghost in the Shell
Ghost in the Shell 2: Innocence
Nasu: Summer in Andalusia
Cowboy Bebop: Knockin' on Heaven's Door
InuYasha the Movie: Affections Touching Across Time
InuYasha the Movie: The Castle Beyond the Looking Glass
InuYasha the Movie: Swords of an Honorable Ruler
InuYasha the Movie: Fire on the Mystic Island
Upcoming movie premieres
Origin: Spirits of the Past (2008)
LaMB (2009) (Hindi and English dub)
Upcoming show premieres
New 3D brand Identity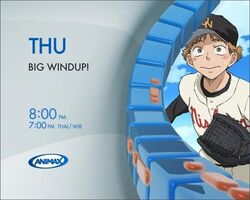 •Animax networks worldwide spruces up brand identity for on-air, off-air, online and mobile for a consistent and immersive evolution of the channel look on all platforms
•The new brand identity adds a fresh look and 3D touch, designed by Argentine agency Punga which enhanced the Animax brand identity that has been in use since 2006
•Brand identity refreshed through collaboration between SPE Networks and SPTI to keep Animax networks worldwide at the cutting edge of appeal to youth & young adults
From 1 September 2008,the new Animax's signature acrylic cubes design element given a more polished and 3D-look, and the addition of new, innovative and colorful 3D design elements revolving round the cubes to add a touch of zest and dynamism to the brand identity. All visual elements are based on a lively color palette of blue, white and orange derived from the Animax logo and design layout to create a vibrant, playful yet sophisticated look.]
Community content is available under
CC-BY-SA
unless otherwise noted.